Archive for March, 2011
I know it's not the original but its better than nothing!
Inspired by the 356 and available in only 356 editions, the new Porsche 911 speedster ($225,000), clad in "Pure Blue", boasts a 408 horsepower flat-six and unique exterior details like a shortened windscreen and the double bubble hardcover.
Our Take? Love the seats and color but no way were dropping $200k on a porsche unless were getting a HARD TOP CONVERTIBLE!
If you're fed up with excessively loud TV commercials or inconsistent volume between different channels, the GefenTV Auto Volume Stabilizer with Digital Audio Decoder (AVSDAD) could be for you. The device, made by home-theater accessory-maker Gefen, stabilizes your TV's audio signal, letting you enjoy a consistent volume level while you channel surf.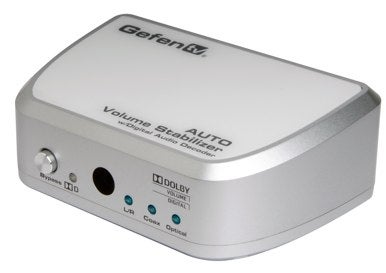 The $229 AVSDAD offers the same functionality as the company's Auto Volume Stabilizer, while adding digital to analog audio decoding for better compatibility with stereo systems. It uses Dolby Volume technology to eliminate noticeable volume spikes and drops, which should end your days of suffering through obnoxiously loud commercials or ear-splitting on-screen gunshots and explosions.
The device provides audio inputs and outputs for digital (TOSlink, S/PDIF) and analog (L/R) formats; surround sound systems using Dolby 5.1 are supported as well. The audio stabilizer works automatically, but a bypass button is also included for when the function isn't needed.
via GefenTV Auto Volume Stabilizer keeps TV volume level | Home Theater | Playlist | Macworld.
I used to reformat my PC's hard drive yearly to clean out all the files that slowed it down. Then it would run like it was brand new. How often do I need to do that with the Mac? I want to clean it up, make it run faster, etc.
There are two schools of thought on this oft-asked question. They fall into these camps:
Never.
and
Never ever.
I'm not a Windows guy, so forgive me if I paint this incorrectly, but my understanding is that this kind of advice is thrown so casually about because attempting to locate and cleanly dispense with all the dribs and drabs of cruft that slow down a PC can be the work of an unpleasant lifetime. So, rather than propel yourself into such a time-sucking hell-hole, you start fresh.
But again, not a Windows guy so the reality may be far worse than I've posited.
Although I've heard of Mac users taking such a slash-and-burn approach, I honestly can't recall the last time I did such a thing. Instead, you might try these techniques:
1. Restart your Mac every so often.
Like battery-sponsored bunnies, a Mac running OS X can stay on its feet seemingly forever. Launch Terminal (found in /Applications/Utilities) and enter uptime. You'll learn how long your Mac has been running since the last reboot. If it's been trotting along for weeks, restarting it may afford it the opportunity to flush out some old junk that's slowing it down.
2. Keep the desktop clean.
If you have a lot of files on the desktop your Mac will slow down. Tidy up those files by placing them in folders and the Finder will be snappier.
3. Slim down the contents of your hard drive.
If your hard drive is nearly full, your Mac will run more slowly. Archive or trash old files you no longer need.
4. Add RAM.
More RAM can speed up some applications.
5. Restart your browser and clear its cache.
Browsers are notorious for slowing down after they've been running for a long time. If you find that your Web surfing has been reduced to dog-paddling, quit and restart your browser. If it's still slow, clear its cache. In Safari choose Safari -> Empty Cache. In Firefox choose Firefox -> Preferences -> Advanced -> Network and click the Clear Now button.
6. Check login items.
Background applications and processes can slow down your Mac. Open the Accounts system preference, select your account, and click the Login Items button to take a gander at what's slated to run at startup. Do you need everything it lists? If not, delete the unnecessary items.
7. Check Activity Monitor.
Launch Activity Monitor (found in /Applications/Utilities), choose My Processes from the pop-up menu at the top of the window, and click the %CPU heading. Look at the top several items. This tells you what's drawing most of your Mac's attention. Are there items there that you can do without?
8. Quit applications.
Per the last suggestion, it's very easy to run multiple applications on your Mac. But perhaps there are more running than you need. Look in the Dock. If you see scads of applications with little blue dots beneath their icons (indicating that they're active), quit those you aren't planning to use in the near future.
9. Speed up your wireless network.
There are times that your network is the bottleneck rather than your Mac. If you suspect this is the case, take a look at Macworld contributor Glenn Fleishman's Speed Up Your Wireless Network. It's the goods.
10. Buy a faster (or different) drive.
A faster hard drive can speed up your Mac as can a solid state drive (SSD). SSDs can have read and write times that are four to five times faster than a standard spinning hard drive.
And more? Certainly. We have lots of helpful forum members here. If you are such a member, feel free to add suggestions of your own in the comments area.
Not a day goes by at Xobni, without hearing "When will Xobni work on Gmail, Android or iPhone?". This is truly the #1 request from Xobni users, and we've been listening.
Last week, we deployed a new service called Xobni Pro. This service includes the robust "Xobni Cloud" architecture, which enables us to develop new products faster. More importantly, it connects Xobni's relationship management service across multiple platforms and devices.
Previously, Xobni users could only unite their Xobni Contacts and rich profiles across Outlook and BlackBerry. Now, with the Xobni Cloud, we can extend this further. The Xobni Cloud is the foundation that will enable us to support new products and platforms going forward.
Today we're announcing that Xobni is coming to Gmail, Android and iPhone.
Xobni for Gmail BETA – The Xobni sidebar comes to Gmail! Sign up for the Gmail BETA.
* Put a face and a name to every email
* Lightning-fast contact search
* See relationship history and mutual contacts
* Enriched contact info from Facebook, Twitter and LinkedIn
Xobni for Android & iPhone ALPHA – The Xobni app on your Android and iPhone providing quick access to your Xobni contacts and information. Sign up for the Android ALPHA or sign up for the iPhone ALPHA.
* Bring your Xobni automatic address book to your Smartphone
* Access Xobni Contacts from Gmail, Outlook, BlackBerry
* See recent emails and mutual contacts
* Lightning-fast contact search
Testers Wanted
Over the past few months, we have been in Private Alpha mode with Xobni for Gmail with some of the most amazing Alpha testers in the world! This loyal team of testers has been invaluable: diligently identifying bugs, suggesting new features, and providing lots of encouragement along the way during our ALPHA. Thanks so much to each of you for your emails and posts in the forums—your participation makes a difference!
So, if you're one of those really early adopters, and like to get an early peek at these products, or if you're one of the thousands that has written us asking for Xobni in Gmail, iPhone and Android—we'd love to have you on our Alpha (or Beta) tester team. Sign up on the respective pages for Gmail BETA, Android ALPHA and iPhone ALPHA products. We'll be letting users in on a first come, first served basis. All feedback, thoughts and ideas are welcomed.
You might be wondering: will there be a Free and Pro version of these products? The answer is: Yes! We aren't sharing all those details yet, but we will in time.
We hope you're as excited as we are, and we are looking forward to developing these products with you by our side.
Thanks!
The Xobni Product Team
via Xobni for Gmail, Android & iPhone coming soon! – Testers wanted. « Xobni Blog.
Stocking stuff alert for the OCDers in your life. Tapi ($5) allows you to drink or rinse your mouth straight from the tap – no hands, no cups. It fits on almost any tap, and water-safe rubber that won't change the taste of the water. Just tap, squeeze and drink!
Talk about the history of palaces, and chances are that there are little or none who come quite close to the Palace of Versailles. Be it the site of the French Revolution, the home and the power seat of some of the most dynamic kings or queens, or the only place that contains in its wall more drama of power, deceit, romance and scandals than reams of history books. Truth be said, there's nothing like this royal residence- a place whose grandeur is legendary and yet unseen. And if you, like us, have been enamored by the mysticism of this historic place, then here's news for you. Come 2011, and the age old palace will see a transformation from the royal residence of the yesteryear royalty to a luxury hotel par excellence.
Yes really. As per the agreement between the Culture Ministry and the Secretariat of State for Tourism in 2009, one of the satellite buildings of palace is being turned into a luxury hotel. The Hotel du Grand Controle, the traditional home of the chateau's treasurers, is to be converted into a "luxury hotel," Jean-Jacques Aillagon, president of the Chateau de Versailles, said Tuesday.
The palace, a UNESCO World Heritage site deemed one of the crowning achievements of 18th-century French art, is one of Europe's most popular tourist attractions. Famed for its Hall of Mirrors and home to the French court from 1682, the complex was transformed and expanded under the Sun King Louis XIV into a monument to royal grandeur and absolutism. It remained the official seat of power until the French Revolution in 1789, when Marie-Antoinette fled the palace via a secret passage.
A concession has been granted to the Belgian company Ivy International SA, which is to renovate and develop the satellite building that dates back to the 17th century, over 30 years. Built in the 1680s by the architect Jules Hardouin-Mansart, the 1,700 square-metre (18,000 square-feet) Hotel du Grand Controle served as an officers' mess until 2006.
Ivy will pay for the renovation works, estimated at 5.5 million euros (7.3 million dollars), which will be led by historic monuments architect-in-chief Frederic Didier. The palace, ordered by Louis XV and is considered a jewel of French patrimony. The opening of the 23-bedroom establishment, in which some rooms will look out onto the "Orangerie" – the chateau's elaborate greenhouse – or the Swiss ornamental lake, is planned for late 2011.
The video, uploaded to YouTube Monday, amassed more than 1.2 million views in four days.
(Credit: Video screenshot by Eric Mack/CNET)
Just as I--and many of you--suspected, the viral video claiming to demonstrate how to hack into the huge video monitors in New York's Times Square was a fake.
The video shows two people: one filming and holding an iPhone with a "video transmitter" plugged into the headphone jack, and the other with a "video repeater" that appears to hijack any screen it comes near, forcing it to display the video feed from the phone. Toward the end of the video, the repeater is attached to a helium balloon, and floated up in front of the Times Square monitor, which also acquiesces to the "hack."
As it turns out, there's more of a backstory to the video than its DIY aesthetic would seem to indicate. The faux hack was actually part of a subtle viral marketing campaign for the movie "Limitless." The only nod to the film comes in the moments before the Times Square screen is taken over--the movie trailer is playing on the screen before it's replaced with the iPhone feed.
While many people called the hoax, we didn't get it totally right. I and most others assumed the screen manipulation was the result of video post-production. In fact, Michael Krivicka of Thinkmodo, the marketing agency behind the video, says the apparent video hijack really did play on the Times Square screen.
"We basically rented the screens on Times Square," Krivicka told InformationWeek. "We had our own footage play on there, which had sync points that were looping every 60 seconds. So we basically synced up the footage on our iPhone and made it look, with rehearsed timing, like it's being hacked into. It was really simple."
Moog has announced the SlimPhatty, a tabletop Little Phatty. The SlimPhatty can rack mounted with optional ears, or be encased in real wood.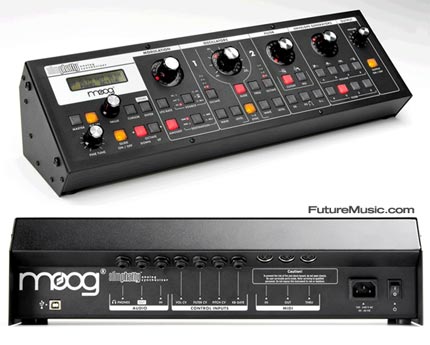 Features:
» Two Oscillators
» 24 dB/Oct Moog Ladder filter with filter Overload control and a single Output VCA
» External Audio Input and CV Inputs for Pitch, Filter, Volume and Keyboard Gate
» An Envelope Generator section provides two ADSR Envelopes
» MIDI over USB
» Arpeggiator
» The Modulation section contains a 4-waveform LFO, and a 1×2 Mod Bus with 8 possible mod sources and 4 possible destinations
» Master Volume control, Fine Tune, an Output On/Off switch, and a headphone output jack
» New sound bank
» Universal Internal Power Supply
It's 17 " wide. If rack mounted, the Slim only takes up 3 rack spaces and 4 5/16″ deep. When used as a table top synth, it will be 4 9/16″ high and 5 5/16″ deep. Only 2.6 kg (5.75 lb.). The portable SlimPhatty can be played from the front panel, accessed with any MIDI controller, or used as a voice expander with a Little Phatty, Minimoog Voyager, or Moog's other synths.
The Moog SlimPhatty costs $799 / £699 and will be available in the US just before the holidays and January 2011 in Europe.